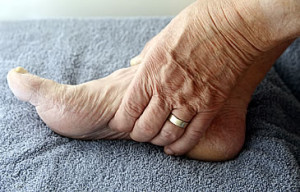 More than 8 million people in the U.S. suffer from chronic, or non-healing, wounds. While underlying causes of chronic wounds vary from patient to patient, they frequently occur in patients with diabetes, and often on the foot.
Approximately one in four people with diabetes will develop a foot ulcer in his or her lifetime, potentially causing infection, disability or possible amputation. Foot ulcers may form for a number of reasons, among them poor circulation, an irritation, lack of feeling in the foot and foot deformities.
When you have diabetes, proper foot care is very important. Poor foot care may lead to amputation of a foot or leg.
As a person with diabetes, you are more vulnerable to foot problems, because diabetes can damage your nerves and reduce blood flow to your feet. The American Diabetes Association estimates that one in five people with diabetes who seek hospital care do so for foot problems. By taking proper care of your feet, most serious health problems associated with diabetes can be prevented. Your doctor will check your feet each year for any problems.
Neuropathy is another factor that can put people with diabetes at a higher risk for foot ulcers. Resulting from elevated glucose levels over a long period of time, neuropathy causes lost or reduced feeling in the feet. If you have diabetes, talk with your physician about being tested for neuropathy during your regular visits.
Wash and Dry Your Feet Daily
Examine Your Feet Each Day
Take Care of Your Toenails
Be Careful When Exercising
Protect Your Feet With Shoes and Socks