About Dr. Castillo's Pain Management Style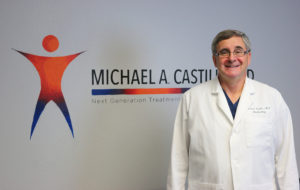 Dr. Castillo is a nationally recognized pain management physician. He is a leading expert in microvascular and neuropathic pain syndromes. He practices innovative treatments such as Spinal Cord Stimulation, Intrathecal Catheter Medication implants; as well as Platelet Rich Plasma and Fibrin Therapies, and Regenerative Cell Therapies.
Committed to providing patients with the highest standard of medical care, Dr. Castillo creates comprehensive and individualized treatment programs for every patient. No two patients are the same, so why should their treatment programs be the same? Treatments are modified and adjusted according to the progress of each patient to help with recovery and successful health goals.