About Our Pain Management Style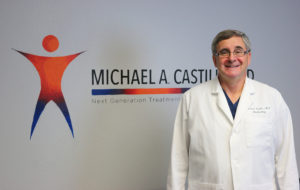 Dr. Castillo is a nationally recognized pain management physician. He is a leading expert in microvascular and neuropathic pain syndromes. He practices innovative treatments such as Spinal Cord Stimulation, Intrathecal Catheter Medication implants; as well as Platelet Rich Plasma and Fibrin Therapies, and Regenerative Cell Therapies.
Committed to providing patients with the highest standard of medical care, Dr. Castillo creates comprehensive and individualized treatment programs for every patient. No two patients are the same, so why should their treatment programs be the same? Treatments are modified and adjusted according to the progress of each patient to help with recovery and successful health goals.
Treating the patient as a whole, and not just the symptoms presented. You walk out knowing Dr. Castillo took his time, and understands your individual health concerns.
Additionally to his expertise in neuropathic and microvascular pain syndromes, such as diabetic peripheral neuropathy; Dr. Castillo also specializes in the following pain conditions: Cervical Radiculopathy, Complex Regional Pain Syndrome, Degenerative Disc Disease, Facet Joint Syndrome, Headaches, Herniated Discs, Lumbar Radiculopathy, Peripheral Arterial Disease, Phantom Limb Pain, SI Joint Pain, Spinal Stenosis, and Sports Injuries.
What makes Dr. Castillo Different?
Dr. Castillo and his staff believe in modifying and adjusting patients' treatments according to patient's individual progress. Dr. Castillo is one of a handful of physicians who still perform physical exams to access the area of pain, in addition to reviewing medical tests. Education is key in Dr. Castillo's office, providing patients with not just information about their condition, but also all available treatment options and what might be the most beneficial to each patient.
He Listens to the Patient
Performs Physical Exams
Reviews Tests
Educates the Patient & Makes an Individualized Plan