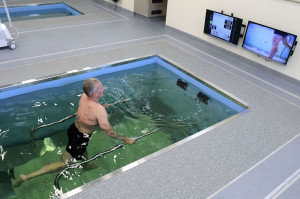 Logan resident Dawn Carter's life changed in January 2015 following an accidental fall down a flight of stairs.
Originally diagnosed with just a concussion, complications from the injury now cause Carter to experience chronic nerve pain and migraines, in addition to seizures and memory loss.
"There is really nothing (my doctors) can do about my pain," Carter said. "It hurts so bad (that) I feel like an electric eel is swimming throughout my body. It mainly starts in my wrist and works up my arms, up to my shoulders and down to my back."
According to data gathered by the Institute of Medicine of the National Academies, 100 million Americans suffer from chronic pain conditions, affecting more people than coronary heart disease, diabetes and cancer combined.
Fortunately, treatment options for both chronic and acute forms of pain have evolved from the over-simplified, pharmaceutical heavy days of the 1970s, said Dr. Brian Richardson, who specializes in pain management at Logan's Southwest Spine and Pain Center.
As pain management evolves, so too does the form it takes. The new standard of care in pain management is that of the integrated pain management, or the treatment of a patient's pain with the combined help of general practitioners, physical therapists and psychologists.
"The way I like to describe treatment to my patients is that it's like an orchestra," Richardson said. "Say you're watching "Les Miserables" live onstage, but the only instrument in the score is a trombone. Alone, that might not be very pleasant. But if you've got cellos, violins, saxophones and clarinets, it's going to sound a lot better and be a much more pleasant experience. It's the same concept with pain management. Now, we're using multiple tools to help diagnose, address and fix a problem."
The physical, mental, social approach
Physical therapist Swen Sandberg, who has been rehabilitating outpatients through Intermountain Healthcare at Logan Regional Hospital since 2013, said pain management has been working towards the "biopsychosocial" model of treatment over the past few years.
Often abbreviated as BPS, the approach gives equal weight to the physical, mental and social aspects of any given disease.
Sandberg said research studies have shown the effectiveness of the BPS style, with patients showing better recovery results when cared for holistically instead of by a single entity. The results are shifting the way pain management is being approached and introducing an increase in collaboration between medical professionals.
09/27/2015
Continue reading the full article from The Herald Journal here